Take a short survey to share your views on the future of Liverpool University Hospitals
Wednesday, 1 November 2023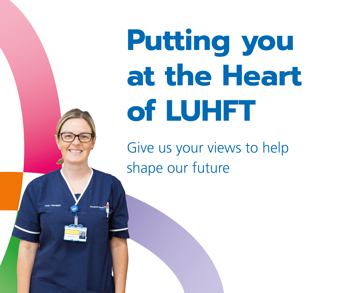 Liverpool University Hospitals NHS Foundation Trust (LUHFT), which manages Aintree University Hospital, Broadgreen Hospital, Liverpool University Dental Hospital and Royal Liverpool University Hospital, is asking for the views of its patients and the public to support the development of its new five-year strategy.
LUHFT is committed to putting patients and the local community at the heart of everything it does. The Trust has started work developing a new Trust strategy, which will replace the current Our Future Together strategy, which expires at the end of March 2024. 

The Trust's new strategy will set the direction of travel for the organisation for the next five years, supported by strategic and annual delivery plans. To help design and shape the strategy we want to know:
what it feels like to be treated at LUHFT
what is important to you when you access LUHFT's services
what you expect from LUHFT in the future.
How you can share your views
A short survey has been created to enable you to share your feedback and comments.
Click here to complete the survey.
You have until Sunday 19 November 2023 to share your views.