Staffing boost for patients using GP practices in Cheshire and Merseyside
Wednesday, 25 October 2023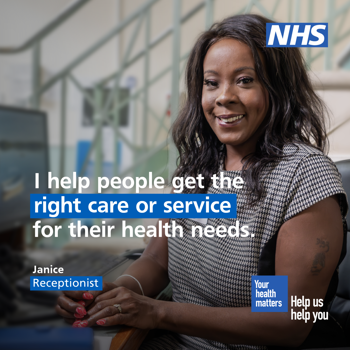 The NHS is raising public awareness of the expanding range of support available to patients through their local GP practice health teams - including pharmacists, mental health practitioners, paramedics, physios, and social prescribers.
Across Cheshire and Merseyside, there are now 1,150 more staff working in primary care than there were in 2019, helping to provide 20% more appointments than before the COVID-19 pandemic - including the same or greater numbers of face-to-face appointments.
A new NHS England survey has found that many people in the north west don't realise that roles such as mental health practitioners (66%), physiotherapists (71%) and social prescribers (89%) could also be available to them through their GP practice, as well as the more established roles such as GPs and practice nurses.
These additional roles are helping to boost and diversify the primary care workforce and ensure more patients get to see the right health professional to meet their needs, first time – which may not always be a GP.
For example, if a patient has muscular pain, they will be booked straight into see a physiotherapist, or if a patient needs a medication review this could be provided by a pharmacist.
These new roles are being introduced in response to record numbers of people seeking support from their family doctors - but with one in five GP appointments for non-medical reasons such as loneliness, the NHS wants to make sure that the right help is available for every patient.
Dr Fiona Lemmens, GP and Associate Medical Director for NHS Cheshire and Merseyside, said:
Information:
"We know that there's a growing demand on GP care, and because of this many of our practices are extremely busy, and getting a GP appointment can sometimes be a challenge for patients.
"That's why we are making lots of changes to how we work as primary care teams right across Cheshire and Merseyside, and we really want to start to communicate some of those improvements to the public.
"We want to reassure all patients that if they need to see a GP, they will always be offered an appointment. However, we also want to make people aware that there are lots of other health professionals working in or with their local practice team, who may be better placed to give them the right care and advice, and get them feeling well again faster."
Public awareness of the wider range of support now available to them remains low. An NHS England survey has revealed that one in three (36%) people in the north west are unaware of the different options available to them at their GP practice.
However, nearly three quarters (73%) of people surveyed in the north west said they were happy to receive care from another health worker, recognising they didn't always need to see a GP for their care.
To help explain more about the growing range of care now available, a new film has been released by NHS England, which sees three curious children go behind the scenes at a general practice to meet some of these professionals and learn more about how they help patients get the care they need.
An important factor in ensuring that patients do get to the right help quickly is the involvement of the reception team. However, the survey results found that 36% of respondents in the north west were unaware that general practice reception teams are professionally trained to assess the information provided by a patient in order to direct them to the right health professional fast. This role is often known as 'care navigation'.
Emma Keane, Care Navigator Manager for Merepark Medical Centre in Alsager, East Cheshire said:
Information:
"Care navigation means we're advising patients about what services are available to them - whether that's here in their own surgery, or at another local service. Instead of telling patients what to do, it is about letting them know what their options are and giving them a say in their care.
"Instead of waiting for a GP appointment, that could sometimes mean referring them straight to another health professional such as a physiotherapist, and with our training and understanding we can direct them to the right service to meet their needs.
"However, in order to advise our patients and get them to the most appropriate care quickly, we sometimes have to ask patients for quite a lot of information about their condition. That first phone call might sometimes feel a bit different for the patient, but thanks to the care that we as a practice team can give them, the next time they ring they're confident that we know what we're doing. They know they can trust us."
While not all of the new roles are available in every GP surgery yet, hearing names like care co-ordinators and social prescribers is becoming more commonplace across GP practices all the time.
Not only does this range of expertise better support people to manage their own health now and in the long term, but it also helps to free up family doctors' time for the patients who really need their specialist care and treatment.
There are a number of different ways to request care from your general practice - including online using a form on your general practice's website, by phone, or in person. However you choose to contact them, your practice team will ensure you get the care you need.