NHS Provider Trusts Gather to Share Good Practice and Celebrate Work of New Adoptees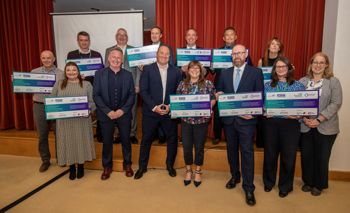 The NHS Prevention Pledge Summit was held in Liverpool on Tuesday 26 September, bringing together over 60 delegates and speakers, including the 17 NHS Provider Trusts from across Cheshire and Merseyside. Chaired by Prof Ian Ashworth (Director of Population Health, NHS Cheshire & Merseyside), the event celebrated the successes and learning to date in adoption of the NHS Prevention Pledge and was the first time all 17 Trusts adopting the Pledge have met in person since work started on this programme in 2020. Additional delegates were also in attendance from primary care, ICB Place, local authority public health, OHID, NHS England and the voluntary sector.
The NHS Prevention Pledge is a key workstream within the Cheshire and Merseyside Integrated Care Board's Population Health Programme. The Pledge has been developed and rolled out by public health charity, Health Equalities Group, and is currently being adopted by all 17 Provider Trusts across the sub-region. Adoption of the Pledge provides Trusts with a framework of 14 core commitments to address and measure impact on the following themes: prevention of physical and mental ill health; social value and anchor institutions; health inequalities; staff health & wellbeing; MECC; quality improvement; and, working with partners at place to prevent readmission.
The first part of proceedings introduced progress to date, the rationale for the Pledge and how this is connected to other workstreams within the C&M Population Health Programme, including the All Together Fairer and All Together Active programmes. The seven Trusts from the Phase 1 and Phase 2 cohorts of the programme then presented case studies detailing work related to the Pledge's 14 commitments, covering: local job creation and social value; community outreach addressing family heart and lung health; equality, diversity and inclusion training relating to staff recruitment and workforce development; hub and spoke delivery of the CURE smoking cessation programme across Trusts in Liverpool; embedding prevention within a mental health Trust strategy; a new workforce health and wellbeing hub; and, adoption of anchor institution practices. 
In the second half of the event delegates heard from Dave Sweeney (Associate Director for Partnerships and Sustainability, NHS Cheshire & Merseyside) on how the NHS Prevention Pledge is also contributing to the sub-region's work on developing Trusts as anchor institutions. The final part of the session celebrated work to date from the ten Phase 3 Trusts who started adoption of the Pledge in September 2022. Plaques celebrating the 'intermediate adoption' of the NHS Prevention Pledge were presented to all Phase 3 Trusts by Prof Ashworth as part of proceedings.
Commenting on the event, Prof Ian Ashworth said:
Information:
"The NHS Prevention Pledge is a key workstream within Cheshire and Merseyside's Population Health Programme, and provides Trusts with a framework to plan, deliver and measure work on prevention, health inequalities and anchor institution practices. Representatives from all 17 of Cheshire and Merseyside's NHS Trusts attending today's summit have presented amazing and innovative approaches to embedding prevention within their workplaces and more widely with their local partners. This is supporting all of our NHS Trusts to deliver on key commitments contained within the NHS Long-Term Plan and helping to meet many of the All Together Fairer 'Marmot recommendations' to reduce health inequalities and create fairer societies for future generations in Cheshire and Merseyside."