NHS Cheshire and Merseyside's Annual General Meeting 2023
Wednesday, 4 October 2023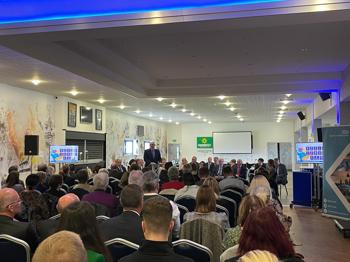 More than 60 people attended NHS Cheshire and Merseyside's first Annual General Meeting at the Halliwell Jones stadium in Warrington on Thursday, September 28th 2023.
Opening the meeting, Chair Raj Jain paid tribute to the 70,000 NHS staff across Cheshire and Merseyside and pointed to the developing partnerships at both Place-level and across the sub-region.
He also encouraged those in attendance to join the 700-plus current members of NHS Cheshire and Merseyside's Citizens' Panel to help shape our work.
Chief Executive Graham Urwin then led a presentation about the performance of NHS Cheshire and Merseyside in 2022-23.
Graham started by highlighting the context which the organisation has been operating in – citing the Lucy Letby trial and ongoing impact of NHS industrial action as key challenges but, despite this backdrop, pointed to the many areas of progress and achievement.
On elective recovery, for example, NHS Cheshire and Merseyside was the first Integrated Care Board in the North West to eliminate both two-year and 18-month waits following the pandemic.
On diagnostics, Cheshire and Merseyside's growing network of Community Diagnostics Centres is rapidly improving access to key diagnostic tests, with £119m worth of funding secured during 2022-23 for additional mobile X-Ray machines and MRI and CT scanners.
Improvements in diagnostics are having a positive impact on cancer care, with people across Cheshire and Merseyside now more likely than ever to have cancer detected in its earliest stages.
On mental health care, Cheshire and Merseyside is exceeding the national target for access to talking therapies, with capital funding secured to develop a perinatal mental health unit in Chester to support new and expectant parents.
Health and care innovation across Cheshire and Merseyside are being facilitated by advances in digital platforms. 53% of all Cheshire and Merseyside residents (aged 13+) have now downloaded and registered the NHS App.
Graham revealed that, via the NHS App, in the last month alone there were:
830,000 individual log ins across Cheshire and Merseyside
4,700 primary care appointments booked
2,500 primary care appointments cancelled
158,000 repeat prescriptions ordered
290,000 patient views of their record
345 patients registered for organ donation
Graham also highlighted the development of innovative Women's Health Hubs in community settings in Liverpool as an example of "integration in action". Via a partnership between the local authority and GP Dr Stephanie Cook, local Primary Care Networks are now at the forefront of influencing national policy.
In 2022-23, the hubs led to an increase in the number of women choosing Long-Acting Reversible Contraception (LARC), with holistic specialist menopause provision among the additional services now set to be offered.
A number of individuals who identify as part of the Save Liverpool Women's Hospital campaign and / or the Keep the NHS Public campaign also made statements during the meeting.
Support was articulated for NHS staff participating in industrial actions, along with the need for NHS managers to listen to clinicians - while comments were also raised about the frequency of NHS Cheshire and Merseyside Board meetings.
Following a presentation about the Annual Report and Accounts by Director of Finance Claire Wilson, Warrington Place Director Carl Marsh then compered a lively question and answer session in which NHS Cheshire and Merseyside Board members responded to public questions on a number of issues including:
Stroke care
Preparations for winter
Cost improvement measures
Liverpool Women's Hospital