National recognition for innovative NHS Cheshire and Merseyside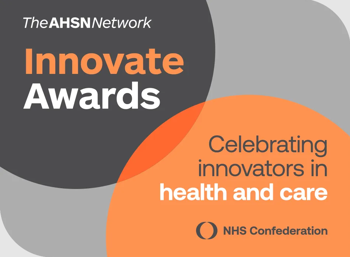 The digital tool which has saved thousands of surgeon hours and prevented people in Cheshire and Merseyside from being admitted to A&E continues to gain national recognition.
NHS Cheshire and Merseyside won 'Best use of Data in Health Innovation' and 'Innovation Champion of the Year' at the AHSN's Innovate Awards alongside technology partner C2-Ai, after transforming how waiting lists are managed with the help of an AI-backed waiting list model.
The tool, which helps surgical teams identify previously hidden high-risk patients, and to make informed decisions on how, when and where to treat patients to achieve the best outcomes won the 'Supporting Elective Recovery Through Digital' award at the Health Service Journal Digital Awards earlier this year.
The Innovate Awards, delivered in partnership between the AHSN Network and NHS Confederation, celebrate innovation in health and care, with the awards receiving just under 200 entries this year.
Other successes on the night included NHS Cheshire and Merseyside's Multimorbidity Multispecialty Heart Failure MDT being highly commended in the Innovative Health System of the Year category while the Virtual Ward National Evaluation Site and Remote Monitoring Enabled Acute Heart Failure Virtual Ward were also finalists.
To find out more about the AHSN's Innovate Awards, click here.