Local woman urges others to check their breasts regularly for early breast cancer diagnosis and treatment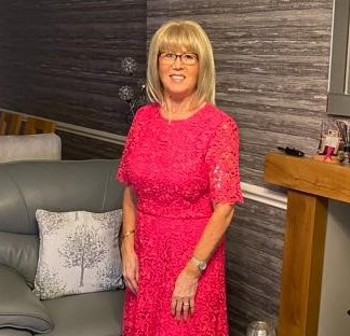 With Breast Cancer Awareness Month running through October, a Merseyside grandmother is urging others to regularly check their breasts and avoid "burying their head in the sand" when it comes to addressing any concerning changes they spot.
Earlier this year, Cheshire and Merseyside Cancer Alliance announced that people in the area are now more likely than ever before to have their cancer detected in its earliest stages when there is a better chance of successful treatment, thanks to NHS initiatives, including Cancer Alliance projects raising awareness and diagnosis of the disease.
The sub-region has seen the second biggest improvement nationally in rates of early detection of cancer over the last five years, according to the latest NHS figures.
The proportion of cancers detected at stages one and two – before the disease has spread to other areas – rose by 6.8 percentage points from 52.3 per cent in 2018 to 59.1 per cent in 2023 in Cheshire and Merseyside.
Sue's story
Sue Makin, from Aintree, has had "excellent" NHS treatment at The Clatterbridge Cancer Centre after she was diagnosed with breast cancer.
Her aggressive cancer started with a small breast lump and some dimpling and developed in just two weeks, but she is now cancer-free.
Sue, who is a patient ambassador for Cheshire and Merseyside Cancer Alliance, is telling her story to encourage other women to watch for the signs and symptoms of the disease and to contact their GP practice if they have any concerns.
She said: "The sooner you start treatment the more chance you have of survival, so I would just say, don't bury your head in the sand, sort it out as soon as you can."
More than one-third of women in the UK do not check their breasts regularly for potential signs of breast cancer. By regularly self-examining your breasts you will get to know how they usually look and feel, which will make it easier to spot any abnormalities or signs and symptoms of breast cancer. It is important as the earlier breast cancer is found, the better the chance of beating it.
Signs and symptoms to look out for:
a new lump or swelling in your breast or armpit
a change in the size or shape of one or both breasts
a change in the look or feel of your skin, such as puckering or dimpling
a rash, crusting, scaly or itchy skin or redness on or around your nipple
a change in the appearance of your nipple, such as becoming sunken into your breast
Men can get breast cancer, too, and they should check their chests for similar symptoms.
Prof Carlo Palmieri, consultant oncologist at The Clatterbridge Cancer Centre, who specialises in breast cancer, said: "Breast Cancer Awareness Month is a good time to remind people that they should contact their GP practice if they notice any concerning change involving the breast or chest. Early detection is vital in all cancer, and no less so in breast cancer, so any delay in coming forward with signs and symptoms of the disease could impact on successful treatment."