Local NHS encourages safe use and disposal of antibiotics during World Antimicrobial Resistance Awareness Week
Tuesday, 21 November 2023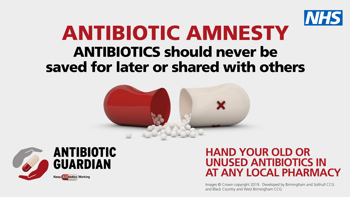 Healthcare leaders at NHS Cheshire and Merseyside are encouraging residents across the region to ensure that they know how to take and safely dispose of antibiotics, during World Antimicrobial Resistance Awareness Week (18-24 November).
Antibiotic resistance is when bacteria change in response to antibiotic medicines being used against them. When this happens, antibiotics can become less effective and, in some cases, may no longer work. Without effective antibiotics many routine treatments, such as setting broken bones or basic operations, will become increasingly dangerous. Some infections will no longer be able to be treated and could become life-threatening. The more antibiotics are used, the more chance there is that the bacteria will change and become resistant to the antibiotics. 
Antibiotic resistance is on the rise after declines during the pandemic, with more dangerous strains of bacteria spreading in communities and hospitals.
Latest data from the UK Health Security Agency (UKHSA) shows that more than 58,000 people in England had an antibiotic-resistant infection in 2022.
NHS Cheshire and Merseyside is also raising awareness of how to care at home for children with three common ailments – cough, earache and sore throat – as well as how to spot potential warning signs and when to seek medical attention.
Many ear infections, sore throats and coughs are caused by viruses, which antibiotics do not kill. Most children with those conditions will not require treatment with antibiotics. They rarely speed up recovery and can cause side effects such as rash and diarrhoea, as well as encouraging the development of antibiotic-resistant bacteria in the child.
For those common illnesses, visit the Alder Hey Children's NHS Foundation Trust online symptom checker or download the NHS Healthier Together app. These include helpful advice on how to treat milder cases at home as well as the signs to look out for which should prompt contact with NHS 111, your local GP practice, or even 999 or your local emergency department.
Advice on how to take antibiotics, and how to dispose of them is summarised as follows:
Never share antibiotics or keep for later use
Always take the full course of antibiotics as prescribed for you by a healthcare professional. Not taking the full course could mean your illness lasts longer.
Return any unused and out-of-date antibiotics to any pharmacy, where the pharmacist will dispose of them safely.
Do not take antibiotics when you do not need them
Susanne Lynch MBE, Chief Pharmacist for NHS Cheshire and Merseyside, said:
Information:
"As healthcare workers in Cheshire and Merseyside, we often hear of people saving leftover antibiotics and sharing them with family or friends. It is extremely important that you complete the full course of antibiotics as prescribed for you. Please do not save them for a later date or share them with anyone, as the person may have a different illness than the one for which they were prescribed.
"We encourage residents all across Cheshire and Merseyside to check their cupboards, drawers and medicine cabinets and to bring any out-of-date and unused medicines, including antibiotics, to your local pharmacy and they will dispose of them safely for you."
Dr Rajesh Rajendran, Regional Medical Microbiologist and Infection Prevention and Control (IPC) Doctor for NHS North West, said:
Information:
"The simplest way to dispose of unused antibiotics is to bring them to your local pharmacy. Do not throw them in the bin, as children could find them and take them by mistake and become unwell. Do not flush them down the toilet or the drain either, as they may contaminate the water supply and could lead to increased antibiotic resistance."