Falls Prevention Awareness Week (18–24 September)
Wednesday, 20 September 2023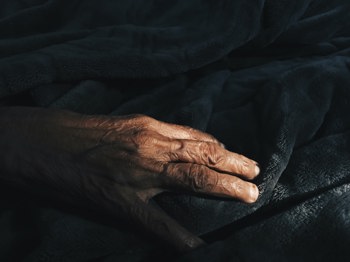 As part of Falls Prevention Awareness Week, NHS Cheshire and Merseyside is raising awareness of the importance of falls prevention and advising people who may be at increased risk of a fall – along with their family members and carers – to take some simple actions now to help keep them safe.
The aim of this year's falls prevention week which runs from 18 to 24 September 2023, is 'from awareness to action' so the risk of falls can be reduced to help people live independently and without anxiety over falling which is a leading cause of injury and death for older adults.
During 2021-22, just under 18,000 people were admitted to hospital across Cheshire and Merseyside due to a fall.
Last year the North-West Ambulance Service visited almost 78,000 people across the North West as a result of a fall, with more than 46,000 having to go to hospital.
There are many factors which can increase the risk of a person falling over including long-term health conditions, such as heart disease, disorders of the nervous system including dementia or other disabling conditions and side effects of medication.
While some of these factors may not be reversible, there are also many important causes of falls which can be addressed more easily such as reduced physical activity, loss of balance - particularly among older people - poor vision, particularly among those living in a care home, and unsafe environments.
As people get older, they are increasingly likely to sustain a fall, but in many cases, this can be prevented through a few simple actions.
Dr Fiona Lemmens, Deputy Medical Director at NHS Cheshire and Merseyside, said:
Information:
"As people get older, they're more likely to have a fall, which can be extremely painful and often leads to being admitted to hospital.
"However, falls are not an inevitable part of growing older. By taking a few simple actions, we can significantly reduce the risk of people falling and help them to live longer, healthier lives."
Some simple actions that can significantly reduce your risk of having a fall are:
Make sure your home is safe:
Immediately mop up spillages.
Remove clutter, trailing wires and tape down frayed carpet.
Use non-slip mats and rugs.
Make sure all rooms, passages and staircases are well lit.
Organise your home so that climbing, stretching and bending are kept to a minimum, and to avoid bumping into things.
Get help to do things you're unable to do safely on your own.
Be safe and take care of yourself:
Don't walk on slippery floors in socks or tights.
Avoid wearing loose-fitting, trailing clothes that might trip you up.
Wear well-fitting shoes in good condition that support your ankles.
Take care of your feet by trimming your toenails regularly
See a GP or podiatrist (foot health professional) about any foot problems.
If you can, get more active:
Regular strength and balance exercises can significantly reduce your risk of having a fall.
This can take the form of simple activities such as walking and dancing, or specialist training programmes.
Many community centres and local gyms offer strength and balance training for older people.
Home exercises are also available.
Ask at your GP practice about training programmes in your area. Many GP practices now have health coaches who can support people to become stronger and more active.
NHS staff working in Cheshire East have been working in partnership with colleagues from Cheshire East Council to raise awareness of the simple things you can do to reduce the risk of falling. This includes holding drop-in sessions at a number of NHS primary care settings where they will be offering falls screenings, blood pressure checks and mobility aid checks and promoting Stand Strong classes for people aged 65 and over.