Ask Your Pharmacist Week 2023 (30 October – 6 November)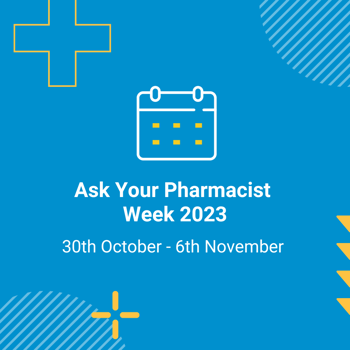 How your local pharmacy can support you.
It's 'Ask Your Pharmacist Week' and health professionals in Cheshire and Merseyside are reminding you about the range of healthcare services and support available at your local pharmacy.
Pharmacists are experts in the use of medicines, managing minor illnesses such as coughs and colds, itchy eyes and earache and providing free and confidential health and wellbeing advice. You can also visit your local pharmacy for winter vaccinations, to discuss taking new medicines and to receive advice on changes to your prescribed medication after leaving hospital.
With no appointment needed, local pharmacy teams offer a fast and convenient service and if needed can speak to you in the privacy of a consultation room.
If symptoms indicate something that may be more serious, they can signpost you to other NHS services, such as a GP or A&E for the help you need.
Susanne Lynch MBE, Chief Pharmacist for NHS Cheshire and Merseyside, said: 
Information:
"Community Pharmacies are an integral part of the NHS family and the range of clinical services provided by community pharmacies has expanded significantly in recent years.
"Our local pharmacists are fully trained and qualified to help you with a wide range of minor illnesses and common conditions. They are your local healthcare experts."
"With a busy winter for the NHS ahead, we would encourage people to think about their pharmacist first when you have a minor health concern."
Jayne Wood, Director of Vaccine and Testing Operations for NHS Cheshire and Merseyside, said:
Information:
"Getting the flu and COVID-19 vaccines ahead of winter are two of the most important things you can do to keep yourself and others around you safe and 'get winter strong' 
"More community pharmacies than ever are offering the vaccines, making it easy and convenient for people to get protection."
Your community pharmacist can help with:
Advice and treatment for minor illnesses such as colds, earaches, itchy skin and eye infections.
Advice on staying well, preventing disease and stocking a safe medicines cabinet.
A free blood pressure check (for those eligible) 
Winter vaccinations
Support to maintain good sexual health.
Advice on stopping smoking.
Personalised support on managing medicines day to day and how to get the most benefit from your medicines.
NHS Community Pharmacy teams work alongside other health professionals, such as doctors, nurses, NHS111 and hospitals to provide the best possible care to the public as part of the wider healthcare system.
Therefore, you are reminded that if you need NHS services, convenient access to advice and supply of medicines, support for healthy living and prompt clinical advice – Ask Your Pharmacist!
To find a pharmacy near you, search using your town, city or postcode on the NHS website.